As our lives become increasingly dominated by screens, more and more people are seeking ways to mitigate the negative effects of extended screen time. One popular solution is blue light glasses, which are designed to filter out the blue light emitted by digital devices and may help reduce eye strain, headaches, and other symptoms commonly associated with prolonged screen use.
If you've recently purchased glasses, you may have been provided with the option to add a blue light coating to your lenses. In some cases, blue light lenses may even be the default option. This may leave you wondering if it's advisable to wear blue light glasses all the time, and the simple answer is yes.
Blue light glasses are safe to wear all the time, but it's important to consult with your eye doctor before introducing blue light glasses into your routine.
Your eye doctor can help you select a pair of good quality and well-fitting glasses for your specific vision and lifestyle needs.
What are Blue Light Glasses?
Blue light glasses are designed to filter out the blue light that is emitted by digital devices such as smartphones, tablets, and computers. The lenses contain light-filtering technology that's specifically designed to block blue light wavelengths.
This blue light has been shown to disrupt our natural sleep patterns by suppressing the production of melatonin, a hormone that regulates our sleep-wake cycles. Wearing blue light glasses while using electronics, especially at night, may help reduce the negative impact that blue light can have on your sleep.
Blue Light & Digital Eye Strain
One of the most common misconceptions about blue light is that it causes digital eye strain. Digital eye strain, or computer vision syndrome, is a very common condition that impacts an estimated 70% of Albertans. As we continue to spend long hours in front of screens for work, school, and leisure, it's likely that number will increase.
However, digital eye strain is caused by how we strain our eyes while using digital devices, not the blue light emitted by those devices. Because of this, blue light glasses are ultimately an ineffective treatment for digital eye strain.
Digital eye strain usually occurs after long periods of screen time and can cause uncomfortable symptoms, including:
Eyestrain
Headache
Blurred vision
Dry eyes
Neck and shoulder pain
If you are experiencing digital eye strain symptoms, it is a good idea to consult with your eye care provider to discuss alternative treatment and prevention options.
Are Blue Light Glasses Effective?
While blue light glasses are intended to reduce the impact of digital screens on our eyes, there is limited research to back up those claims.
Some studies have found that blue light glasses may have a positive impact on reducing eye strain, while others have found that the glasses have little-to-no impact.
The one thing researchers can seemingly agree on, however, is that blue light glasses can be worn without any adverse impact on vision.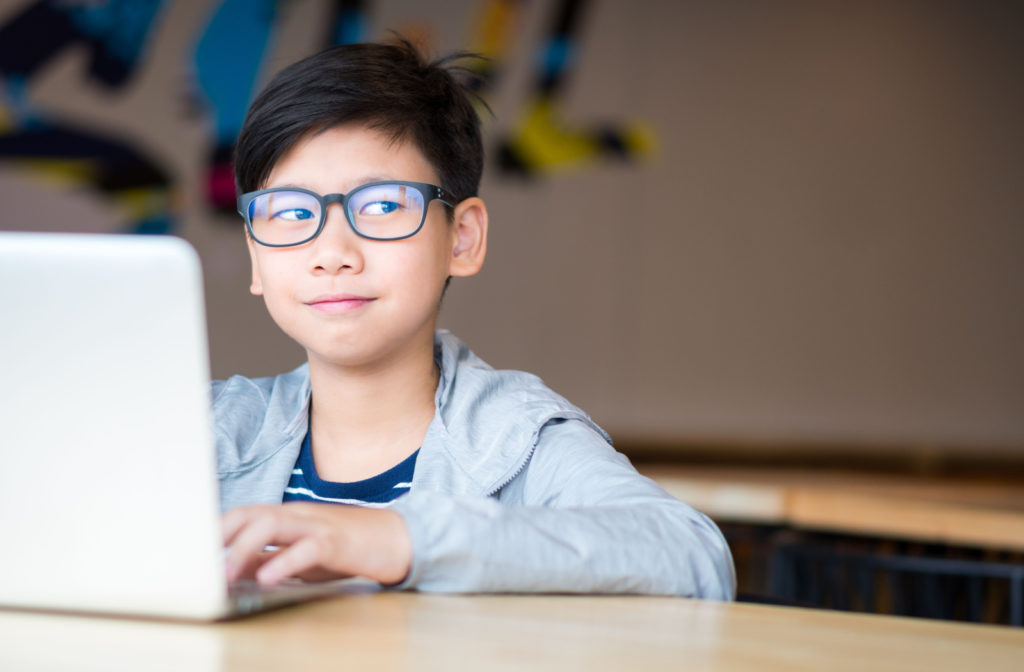 How to Safely Wear Blue Light Glasses
Wearing blue light glasses for extended periods of time is generally a safe thing to do. The blue light filter should not interfere with your non-digital activities, and you may find some added benefit in having blue light glasses with you at all times. However, there are still a few things to keep in mind if you plan on wearing blue light glasses all the time.
Make Sure They Fit
When purchasing blue light glasses, it is important to choose a pair of glasses that are comfortable and fit well. Poorly fitting glasses can cause discomfort and even headaches, which can counteract the potential benefits of wearing blue light glasses in the first place.
Practice Good Eye Care Habits
Second, it's important to remember that blue light glasses are not a substitute for good eye care habits. Blue light glasses are simply one tool that may help reduce the negative effects of screen time and will work best when used in conjunction with other treatments for digital eye strain.
Additional steps you can take to prevent digital eye strain include:
Take regular breaks from screen time
Practice the 20-20-20 rule: every 20 minutes, take a 20-second break and look at something at least 20 feet away
Maintain good lighting in your work environment
Practice good posture at your workspace
Ask Your Optometrist
Your optometrist can help determine if blue light glasses are a good fit for you and can help choose the best pair of glasses for your unique vision and lifestyle needs. Additionally, if you have any underlying eye conditions that may be contributing to digital eye strain, your optometrist may recommend additional treatments or adjustments to your glasses to ensure optimal eye health.
Selecting Blue Light Glasses
If you decide to try blue light glasses, it's important to invest in a comfortable, well-fitting pair. Blue light glasses are available in both prescription and non-prescription options, so even if you do not regularly wear glasses, you may benefit from wearing a pair of blue light glasses.
If you are considering blue light glasses, or are interested in learning more about treatment options for digital eye strain, your first step will be to contact your eye doctor.
At Calgary Family Eye Doctor we are here to support all of your vision care needs. Ask our team of experienced optometrists about treatment options for digital eye strain, including blue light glasses.