Eye floaters are a normal part of ageing, but can they be dangerous? Understanding why eye floaters occur can help you know whether or not you should visit your optometrist for an emergency.
Continue reading to learn more about eye floaters, including what they are, how they develop, and if they're dangerous.
What Are Eye Floaters?
If you've ever noticed little shapes in your vision when looking at the sky or a wall, you're seeing an eye floater. Eye floaters are solid portions of your vitreous, the gel-like material in the middle of your eye.
The vitreous begins to change with age, becoming smaller. As the vitreous shrinks, these small floaters develop. You notice eye floaters when they drift in front of your macula, the part of your eye responsible for your central vision.
Eye floaters are common, and you'll likely experience them more as you get older. They typically don't require any treatment, but they can be a symptom of a more serious condition.
What Do Eye Floaters Look Like?
Eye floaters come in many different shapes. You interpret the form of an eye floater depending on your perception. Common shapes for eye floaters include:
Squiggly lines
Spots
Spider-like shapes
Thread-like strands
Small shadowy shapes
Black or dark spots
You might see these shapes differently than others, but your optometrist has the knowledge to identify if you're experiencing eye floaters. What causes these floaters to develop?
What Causes Eye Floaters?
The typical cause of eye floaters is age. More floaters develop when your vitreous shrinks with time. Eye floaters eventually settle towards the bottom of your eye.
Besides age, there are other reasons you may have eye floaters, such as:
Blood in your eye
Inflammation in your eye
Blood in the eye is typically related to diabetic retinopathy. This condition can cause blood to leak into the vitreous, leading to dark spots and streaks in your vision. You should have regular eye exams if you have diabetes to help protect your eyesight.
Another cause of floaters is inflammation inside your eye. This inflammation occurs because of uveitis and results in more eye floaters appearing.
Who is At-Risk of Eye Floaters?
Eye floaters develop naturally, but some factors put you at more risk. You have a higher chance of eye floaters if you:
Are over 50 years old
Are nearsighted
Have previous eye trauma
Experience complications from cataract surgery
Have diabetic retinopathy
Have eye inflammation
You'll likely experience eye floaters at some point in your life, but are they dangerous? While seeing the occasional floater is normal, there are some instances where floaters can be a sign of an eye problem.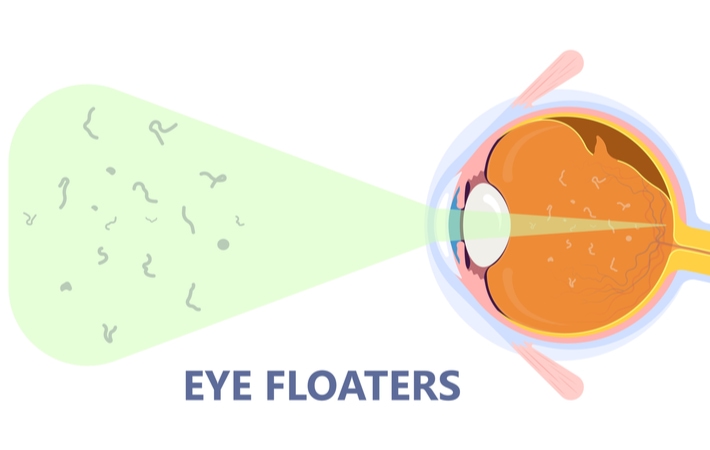 Are Eye Floaters Dangerous?
Eye floaters themselves aren't dangerous, but an increased amount of them is a cause for concern. Floaters that don't go away or a sudden increase of eye floaters mean you should visit your optometrist. You may have an underlying condition causing these floaters to appear.
When floaters appear alongside other symptoms, it can mean you may have a torn or detached retina. Visit your eye doctor for emergency care if you develop floaters and:
See flashes of light
Have a dark shadow or curtain in your peripheral vision
Have trouble seeing
Torn Retina
A tear happens when your retina becomes damaged. The retina tears away from the back of your eye, and blood or cells may leak into the vitreous.
You should seek immediate medical attention if you begin to notice many new floaters alongside flashing lights or dark shadows. A torn retina can lead to vision loss.
Detached Retina
A retinal detachment is an emergency where the retina pulls away from the back of the eye. While a tear is typically a hole in the retina, a detached retina is more severe.
This detachment separates the retinal cells from the blood vessels in the eye. The risk of permanent vision loss is greater the longer a detached retina is left unaddressed.
Uveitis
Uveitis is a type of eye inflammation that occurs in the middle layer of the uvea. The cause of this inflammation can vary, but it can include:
Autoimmune or inflammatory disorders
Infections
Medication side effects
Eye injuries
Very rarely Cancer
This condition can lead to vision loss, so don't ignore symptoms of uveitis. Visit your eye doctor if you experience eye floaters, pain, redness, or blurry vision.
Diabetic Retinopathy
Diabetic retinopathy is a complication related to diabetes. It occurs when the blood vessels in the retina experience damage. There are 2 forms of this condition: nonproliferative and proliferative diabetic retinopathy.
Careful management of your diabetes can help prevent vision loss. Frequent eye examinations with your optometrist can help protect your eyesight.
Watch Out for Eye Floaters
Eye floaters aren't dangerous, but they can be a symptom of another problem. Visit your eye doctor if you notice you have eye floaters that won't disappear or you're experiencing more of them than usual. Taking early action can protect your vision. Contact your optometrist if you're experiencing an abnormal amount of eye floaters.