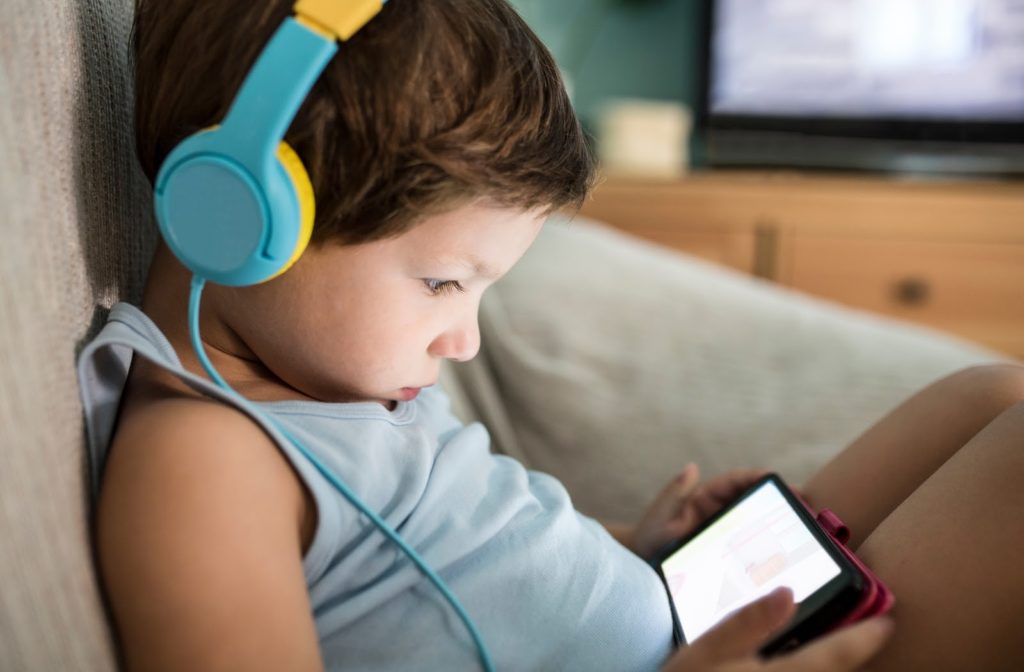 Are you worried about how screen time is affecting your child's eye health? The truth is, most children are getting too much screen time, and it can lead to poor eye development and puts your child at risk for developing certain eye conditions, such as digital eye strain.
If you're concerned about the effects of screen time on your child's eye health, book an appointment with your eye doctor to have your child's eyes examined and to discuss possible preventative measures or treatment methods.
What is Too Much Screen Time?
The Canadian Association of Optometrists (CAO) recommends the following guidelines for appropriate levels of screen time based on age:
0-24 months: It is best to avoid introducing screens at all during this period of your child's development. If video calling is important for your child's social wellbeing, a minimal amount of screen time is acceptable
2-5: At this age, your child should receive no more than 1 hour per day of supervised screen time
5-18: For school-aged children, the topic of screen time becomes a bit more complicated as required screen time may vary depending on your child's education style, development and personal needs. For these ages, CAO recommends limiting recreational screen time to 2 hours per day
Types of Eye Problems Caused by Too Much Screen Time
Our eyes have to work extra hard when looking at a digital screen and the work only increases when the screen we are looking at is too bright, too big or too close. Unfortunately, even if children know these general rules, they often don't pay attention to them. That's why children are at high risk for the following screen-related vision issues.
Blurry Vision
Looking at a computer screen, or anyone object at the same distance, for too long, can cause the eye's focusing system to weaken, causing blurry vision. In addition to this, spending too long doing nearsighted activities, such as looking at a TV or computer, may increase a child's risk of developing myopia.
Blurry vision can get in the way of daily life activities and can lead to further vision problems if left untreated.
Eye Fatigue and Digital Eye Strain
Prolonged use of digital screens requires a lot of focus from the eye and can cause mild to severe discomfort if not enough breaks are taken. This condition usually results in eye pain or headaches but can also cause blurry vision after looking away from the screen.
Dry and Irritated Eyes
Dry or irritated eyes are caused when the eye doesn't get enough moisture and may be due to not blinking enough. Studies show that people blink significantly less than they are supposed to when looking at a screen for an extended period of time.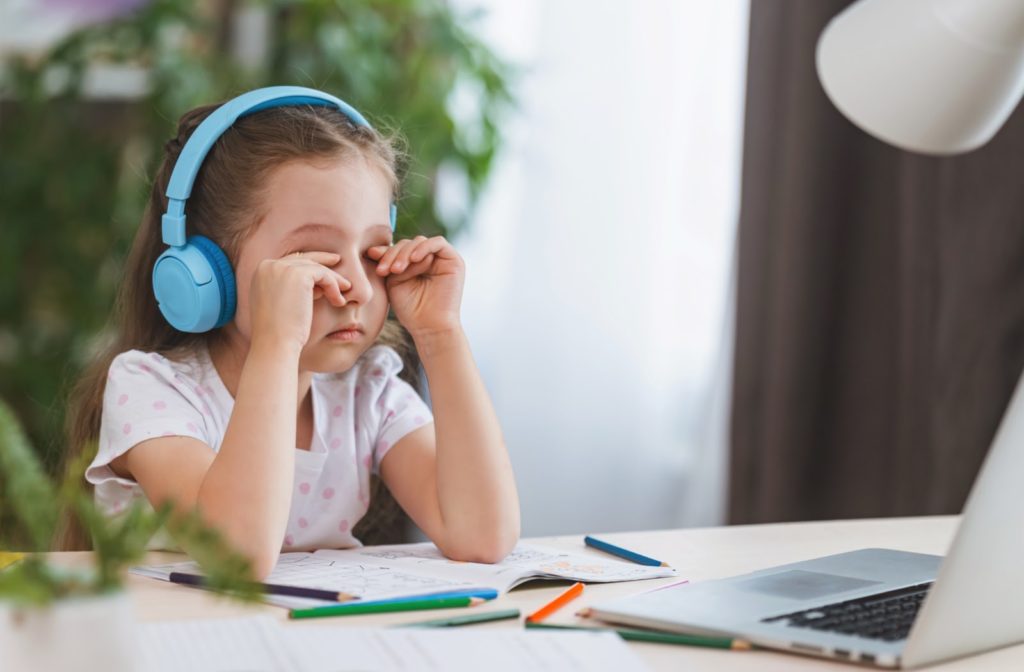 Symptoms to Look Out For
If your child is experiencing any of the following symptoms after screen use, they may be suffering from a screen-related vision problem:
Sore, tired or burning eyes
Watery or dry eyes
Complaints of blurry vision
Sensitivity to light
Difficulty concentrating
Complaints of headaches
Squinting or closing one eye to focus on an object
What Can You Do?
Monitor Screen Time and Schedule Frequent Breaks
Children often don't notice the symptoms of vision-related issues while immersed in an activity, so it is important for you to monitor their screen time and schedule breaks accordingly. A good guideline to follow is the 20/20/20 rule, which outlines that your child should be taking a 20-second break, every 20 minutes, to focus their eyes on something at least 20 feet away.
Remind Your Child to Blink
Blinking slows significantly when looking at a screen and can lead to eye irritation or dry eye, and if left untreated can cause serious long-term eye conditions. Simply reminding your child to blink can lower their chances of developing dry eye syndrome and you can even try making a fun game out of it!
Pay Attention to Screen Positioning
Being too close to a screen can be dangerous for your child's eyes. You should make it a goal for your child to view mobile phones at a distance of one foot, desktop devices and laptops at two feet, and TV screens at 10 feet to make sure their eyes are protected. You can also adjust room lighting to avoid glare, make the font size bigger and increase screen brightness on your child's devices to prevent eye fatigue.
Schedule Routine Eye Exams for Your Child
Because your child's growth and eyesight change rapidly, the best preventative measure you can take is scheduling regular eye exams for your child. We recommend that your child sees an eye doctor once at 6 months of age and yearly thereafter.
Book an appointment today to discuss your child's eye health and any questions you may have concerning screen-related vision problems and digital eyestrain.