Many people choose contact lenses over glasses when they need vision correction. These lenses can help you see clearly without needing frames, but they require more maintenance. Because contact lenses rest on your eyes, do they have an expiration date?
Continue reading to learn more about contact lenses, including if they can expire and how you can care for your lenses.
Contact Lenses: The Basics
Contact lenses are a great alternative to glasses. Millions of people wear these small, curved lenses every day.
Contact lenses help you see clearly and effectively from all distances. There are many types of lenses available, depending on your needs. Some common standard and specialty contact lens styles include:
While contact lenses have many benefits, they need proper care and maintenance. Contact lenses that don't fit properly or aren't taken care of can lead to complications.
Contact Lenses Are Beneficial When Used Safely
Your contact lenses can cause more harm than good if they don't fit well or you don't use them safely. Thankfully, your optometrist can provide you with properly fitted contacts and teach you to care for them effectively.
Have a Proper Fitting
Contact lenses can be uncomfortable and damage your eyes if they don't fit well. You'll require a contact lens exam and fitting to help identify the most effective contact lenses for your needs.
Your optometrist will assess your overall eye health before determining your prescription. They will then measure your eye's surface and your cornea's shape to determine the best style of lenses.
Once they've found a pair of contact lenses, you'll try them out for a short period. You and your eye doctor will have a follow-up appointment to see how your contacts are working and if you require any adjustments.
Avoid Potential Issues & Complications
Your contact lenses can lead to potential complications if not handled properly. Your eye doctor will discuss some of the ways you can avoid problems with your lenses, such as:
Practicing good hygiene
Minimizing contact with water & saliva
Using contact lens solution
Replacing lenses & contact lens cases as recommended
Avoiding over-the-counter contact lenses
Proper contact lens care can help prevent complications, but this isn't guaranteed. Issues can arise no matter what. Your eye doctor can help when problems occur—whether it's providing a new prescription, treating an infection, or examining your eyes.
Can Contact Lenses Expire?
Contact lenses do expire, and you should avoid wearing lenses past this date. Your contacts are medical devices that must be sterile and safe. They can harm your eyes if they are contaminated.
The expiration date of your contact lenses can vary, depending on the type of lenses you have. Soft contact lenses typically have an expiration date, while rigid gas permeable lenses may not. Your contact lens packaging should identify the last date your lenses are safe to wear.
Besides your contact lenses themselves, your prescription has an expiration date. This date is the last time your optometrist allows you to purchase new lenses. Your prescription typically lasts a year—after that, you'll need another examination so your eye doctor can write you an updated prescription.
Knowing when your contact lenses expire is a part of your regular care and maintenance. Replacing your contacts can help lower your risk of contamination and potential eye infections.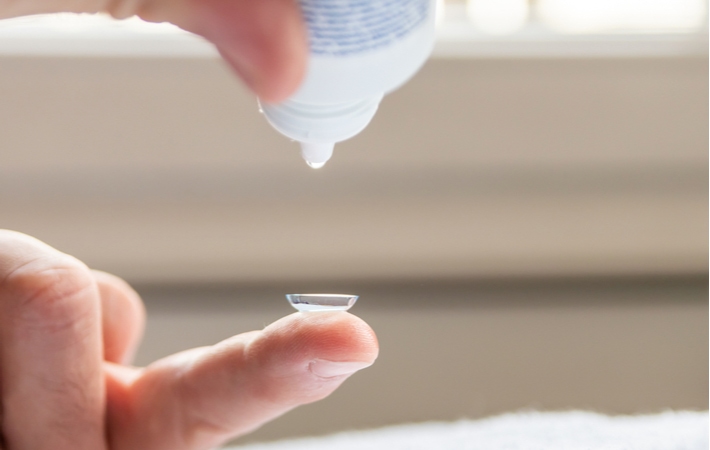 Contact Lens Care Tips
Taking care of your contact lenses can prevent bacteria that can irritate or infect your eyes. There are many ways you can maintain your contacts at home to help protect your eyes. Follow these general guidelines, but always listen to your optometrist's advice and recommendations.
You can care for your contacts by doing the following:
Wash your hands before you remove or wear your contact lenses
Clean your lens case regularly with soap & water
Don't wet your contact lenses with tap water
Wear your lenses only as long as instructed by your eye doctor
Don't wear contacts while you swim, shower, or use a hot tub to prevent infections
Use the lens cleaning product your optometrist recommends
Store the lenses in disinfecting solution overnight (if applicable)
Put in your contacts before applying eye makeup
Use a sterile saline solution or rewetting drops when your contacts become dry
Besides these tips, you should regularly visit your optometrist to assess your eye health and see how effective your prescription is.
Despite the care you use with your contacts, you can still develop an infection. You should see your eye doctor as soon as possible if you experience:
Pus or discharge coming from your eye
Redness or swelling around your eyes
New or worsening eye pain
Vision changes
Foreign object sensation
Light sensitivity
Your eye doctor is available to help with your contact lens needs. No matter the issue, they can help you find a solution.
Maintained Contact Lenses Can Improve Your Vision
Contact lenses are a great alternative to glasses, but they need regular care. Your optometrist can help ensure you have an effective prescription and fit for your lenses, but at-home care requires dedication. Follow your eye doctor's advice, and you can experience improved vision while mitigating the risk of complications. If you're interested in contact lenses, contact your optometrist.