When it comes to vision correction, there are several options available, including contact lenses. These small and versatile lenses offer an alternative to traditional eyeglasses, allowing you to have clear vision without compromising your comfort or style. But how exactly do contact lenses work?
Contact lenses work by correcting your natural refractive error. They bend incoming light to focus it precisely on your retina so you can have clear vision. You'll need to have a contact lens exam and fitting to determine your prescription and find the right type of contact lens for you. In most cases, the contact lens prescription is different from the spectacle prescription.
How Do Contact Lenses Correct Vision?
In a healthy eye, light is refracted through your natural lens to sit on a focal point located on your retina, allowing your eyes and brain to build a clear image of your environment. However, this natural lens of your eye isn't always perfect—there are many common vision problems that can change how light enters your eye, including:
Myopia, also known as nearsightedness
Hyperopia, also known as farsightedness
Astigmatism, which can occur when there is an irregularity on the natural lens of your eye
Presbyopia, which is when the eye loses its ability to accommodate/focus on near objects
Contact lenses correct refractive errors by changing the way light enters the eye, compensating for your eye's irregularities. An eye care professional can perform a comprehensive eye exam and contact lens fitting to determine which type of lens will benefit you and your unique optical needs.
The Benefits of Contact Lenses
While many people are familiar with traditional eyeglasses, contact lenses are a popular alternative. Some of the benefits of these lenses include:
A natural appearance unobstructed by frames, which can sometimes take focus from a person's face
A wider field of view than eyeglasses
An ideal choice for an active lifestyle, as they can't be jostled or knocked off your face like eyeglasses
Convenience and comfort, as they don't need to be adjusted or rearranged on the face
Contact lenses provide a comfortable option that can be worn for extended periods, giving you clear vision throughout the day without the need for constant adjustments.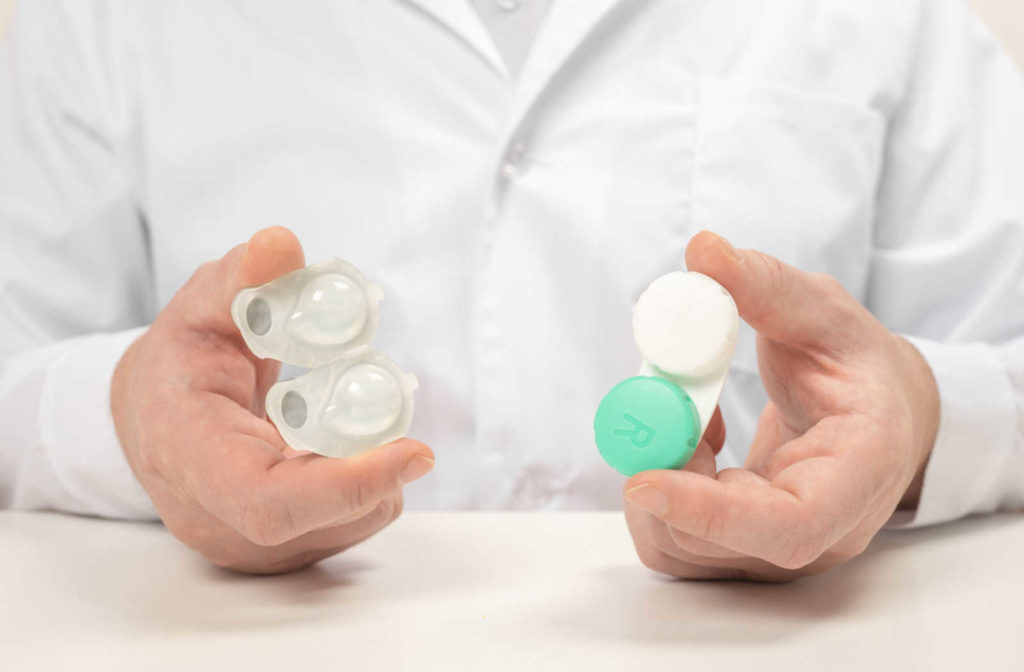 Different Types of Contact Lenses
Contact lenses come in a wide range of forms, each designed to cater to a specific preference or situation while still meeting vision correction needs. However, there are 2 main categories that primarily divide contact lenses:
Soft contact lenses: These are made from a soft, breathable material that's designed to be comfortable to wear for a long period of time. These conform to the natural shape of your eye, and can be made available in daily, bi-weekly, or monthly replacement options.
Rigid gas-permeable lenses: These are made of a firm oxygen-permeable material that tends to last much longer than soft lenses. These are often more suitable for complex vision needs.
Both of these choices are an excellent way to correct refractive errors. However, the options don't stop there.
Specialty Contact Lenses
Specialty contact lenses are a form of contact that, while operating similarly to a traditional lens, contains other features or styles. These are designed to correct your vision while offering additional benefits to adapt to your specific visual needs.
One of these specialty lenses is a toric lens. A standard contact lens is shaped like a slice from a beach ball, whereas a toric lens is shaped more like a slice from a football. This shape is designed to help correct vision problems like astigmatism.
Another type of specialty contact lens is the MiSight 1 day soft contact lens—a type of lens designed to control myopia in kids aged 8–12. These lenses use a dual focus optical design to slow the progression of myopia by 59% on average.
There are many other options for specialty contact lenses to combat other issues like irregular corneas, high refractive errors, or dry eyes.
Where to Get Contact Lenses
To get contact lenses for your refractive error, your first step should be to visit your optometrist. They can perform a comprehensive eye exam and determine the prescription you'd need for clear vision and can check the overall health of your eyes to determine an appropriate type of lens.
Contact lenses have become an excellent way to correct natural vision errors, working as a comfortable alternative to traditional eyeglasses. To get a prescription for contact lenses, schedule an eye exam with us at Calgary Family Eye Doctors today!